Electrical Problems Got You Wired?
Don't worry… electrical challenges are our specialty! Our team will not only meet your expectations, but exceed them. We can alleviate your headache, create a soothing environment and above all, add value to your home.
Whether you need additional lighting or need to update your interior Dominic the Electrician and Team can help. We take away the hassle of several contractors parading through your home and give you the custom touch without the inconvenience.
Trust us. We combine affordable pricing, standards and quality which place us above our competition. Not to mention the quick turn around, which affords you the time to not only love the new atmosphere we create, but appreciate the lack of interference we won't cause.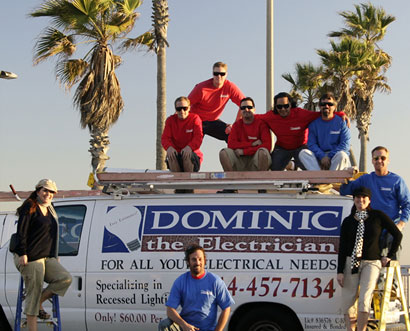 About the team
Our expert electricians will handle all your indoor and outdoor electrical needs. With years of experience they will come with the correct solutions for every problem.The more skills and experience the technician have, the less time it will take to locate the problem and fix it. Our electricians have years of experience, they are specially trained in troubleshooting procedure, and for you as a customer it means fast and affordable service.
Whether your home is 99 years old or only one, when it comes to remodeling or additions, our electricians are highly skilled and experienced to work in finished areas with minimal disruption to walls or ceilings. We take pride in offering our customers outstanding services. We are licensed and highly experienced in new installations, rewiring, and repairing. Our expert technicians offer unrivalled expertise and unbeatable customer service on every job we undertake, which is why we have established a reputation for unparalleled quality and dependability. Don't just take our word for it find out for yourself.